Are Glad Bags a part of your life? For us they are pretty much a very necessary staple in our pantry. We rely on Glad smaller bags for indoor garbage cans. We also use the Glad Black Bags (the larger variety) for many uses. We received a container of large trash bags and definitely put them to use. I finally cleaned out my packing materials and found I had a giant bag full of bubble wrap and tissue paper. I am keeping it in the garage before I decide if I should list it for free on craigslist or just drop it off at the local shipping place like I normally do for them to reuse the materials in their packaging. One big old pile of donations to Goodwill that had filled half a closet was easily contained in the Glad Black Bag.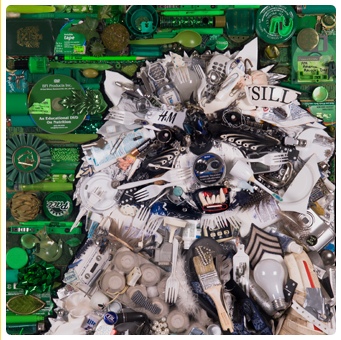 Recently Glad hosted the Recycled Art Auction where followers were able to bid on awesome, original creations such as those pictured below. The Glad Black Bag Art Auction has a special partnership with famous mosaic artist, Jason Mecier, the Picker Sisters and Keep America Beautiful. I love to see artists using recycled and re-purposed items in their art! I have always been rather "green" at heart and enjoy initiatives that re-use, re-purpose and recycle. It is awesome to see artists pursuing this goal.
Keeping with the theme "trash to treasure," Glad Black Bag is working with Keep America Beautiful's Great American Cleanups across the country to collect items that will be used by a mosaic artist to turn them into works of art. Four pieces of art will be auctioned off during the Glad Black Bag art auction on eBay for consumers to bid on, with proceeds benefiting Keep America Beautiful's Great America Cleanup events. To learn more about Keep America Beautiful or to find a Great American Cleanup near you, visit www.kab.org.
I wrote this review while participating in a blog tour campaign by Mom Central Consulting on behalf of Glad Black Bag and received a Glad Black Bag product and a promotional item to thank me for taking the time to participate. I was also asked to "pin" one (1) Glad Black Bag Art Auction photo on Pinterest.