Are you ready for Thanksgiving? Personally, it is one of my favorite holidays. As someone who immigrated to the United States, we brought our own traditions into the Thanksgiving dinner. A usual staple was sauted beets and stuffing was an after-thought, usually made plain out of the box. As my cooking expertise and appetite has grown, I was looking forward to trying some of Mrs. Cubbison's recipes from her Best Stuffing Cookbook. Flipping through it, I was excited to see seafood dishes featured and many other healthy options.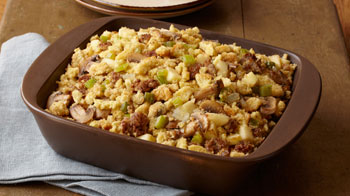 Servings: 8
Prep Time: 30 min
Cook Time: 30 to 50 min
1 pound; ground beef
1/2 cup; butter or margarine
1 cup; chopped onion
1 cup; minced celery (I used 1.5 cups)
2 cloves garlic, minced
2 6-ounce packages of Mrs. Cubbison's Classic Seasoned Dressing
1 granny smith apple, peeled, cored, and diced
1/4 cup; chopped fresh parsley (I used 3/4 cup)
1/4 cup; barbecue sauce
1/2 cup; beef broth
1/2 cup; dry red wine
1 egg, lightly beaten
Preheat the oven to 325°F. Liberally grease a 2 1/2- to 3-quart casserole dish and set aside. Place a large-sized skillet over medium heat. Add the beef, and cook, breaking the meat up with a fork, for about 10 minutes, or until no pink remains. Remove the beef from the skillet and set aside.
Melt the butter or margarine in the skillet. Add the onion, celery, and garlic, and sauté for 3 to 5 minutes, or until the vegetables are tender. Add the stuffing mix, apple, parsley, and cooked beef to the skillet, stirring to mix. Gradually add the barbecue sauce, beef broth, wine, and egg, stirring until lightly moistened.
Transfer the stuffing to the prepared dish and cover. Bake on middle rack of preheated 325°F oven for 30 to 40 minutes until internal temperature reaches 165°F. If a crisp top is desired, uncover the dish and bake for 10 additional minutes.
Are you ready to try some new Thanksgiving recipes? Check out Mrs. Cubbison's website for some ideas and great Thanksgiving tips or other holiday meal ideas!
WIN IT
One of my US readers will win a prize pack of products including Mrs. Cubbison's stuffing, onion crumbles and more similar to the one I received pictured below. Lucky you!
MANDATORY ENTRY
1) Tell me what tasty menu item you like from Mrs. Cubbison's Thanksgiving Tips website. I think the Butternut squash soup with fontina cheese crostini sounds wonderful!
This giveaway is closed. The winner was #47 Helen – congratulations!
Please ensure your profile is public or leave me your email address in your comment. Please be honest in your entries as I do check entries and will delete any non-qualified comments! This giveaway will end at midnight on December 6th. I will use Random.org to choose the winner, email the winner and post the winner on my website. Giveaway is open to US addresses. Good luck to all!
This review and giveaway was made possible by Mrs. Cubbison's. Thank you for providing the products for review and giveaway! I was not required to write a positive review, nor was I paid for this review. The opinions I have expressed are my own. Please refer to my Disclosure.