Want a simple way to transform your health? All it takes is one glass of Shakeology® a day. This ultra-premium nutritional health shake contains the world's most powerful superfoods. It's the perfect combination of antioxidants, phytonutrients, enzymes, prebiotics, protein and many rare ingredients – including adaptogens, camu-camu, and sacha inchi – giving you the essential nutrients you can't get from an ordinary diet.
Replace one meal a day with Chocolate or Greenberry Shakeology to increase your energy, reduce cravings, lose weight, improve digestion and regularity, and transform your health.* It tastes great, and it's just 140 calories.
MY THOUGHTS
As a general rule, I have to (proudly!) say that I am a very healthy eater and try to get some exercise in three to five times a week. However, sometimes when work and life and home get a little hectic, I slip up in my good habits. I forget my vitamins or resort to frozen meals. Shakeology is a wonderful product to have during such hectic times because it contains a wide variety of nutrients and forces me to include more fruit in my diet.
I received a 30 day supply of Shakeoloy's Chocolate and was a bit hesitant because I am not really a chocolate person (yes, crazy, I know!). However, mixed with fruit, I enjoyed the flavor. The box included a 30 day calender of yummy recipes to experiment with. For the most part, I used a variety of frozen fruit in my shakes. My favorite combination was simply plain strawberries or raspberries, or a strawberry banana mix. FYI – frozen blueberry skin is not fun to pick out of your teeth!
After my first attempt at following the recipe, I found that I clearly preferred a more watery shake so I used probably around 2 cups of water instead of the recommended 1 cup and double the fruit amount, too. When I used fresh fruit instead of frozen, I also added some ice because I enjoyed this more as a cold milkshake than room temperature. The consistency was not at all gritty (and I have tried several protein shakes in the past!) and definitely not too sweet (my biggest fear, since I don't like sweets!). I have to say truly enjoyed my shakes.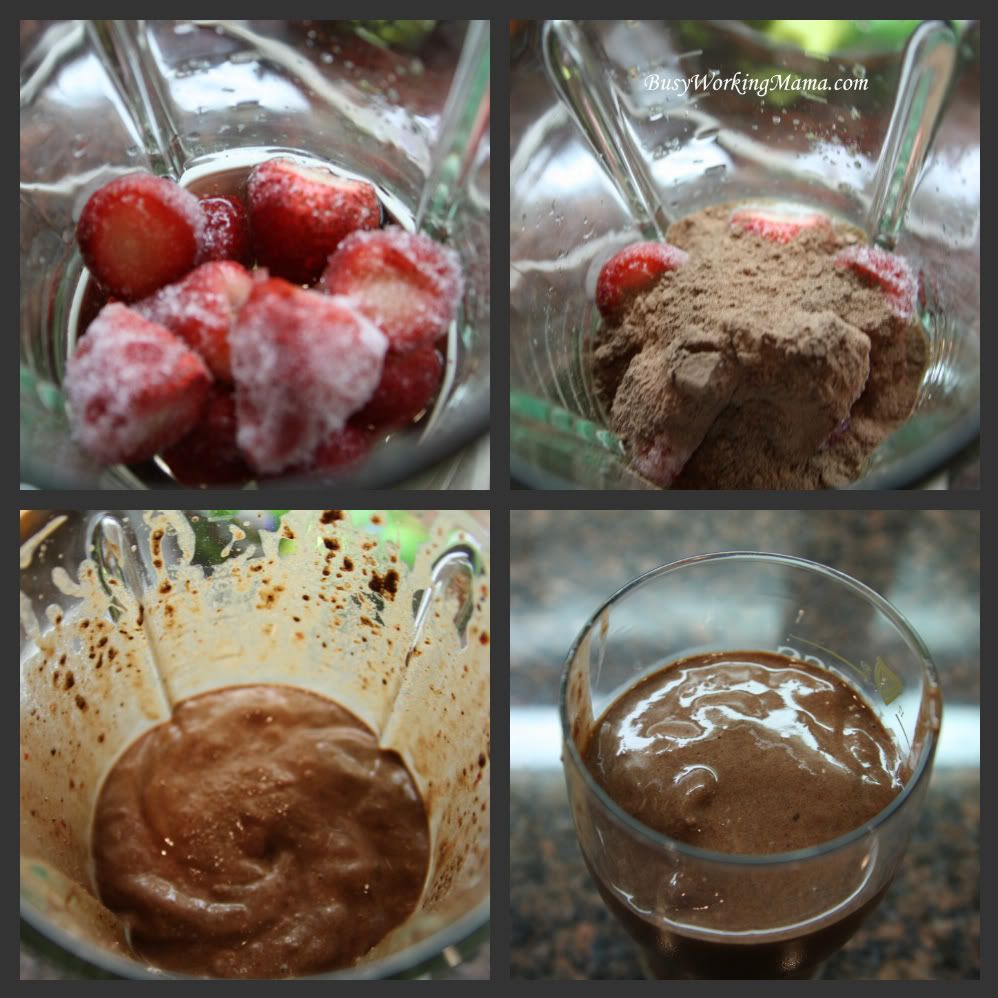 Sometimes I would drink about half of it with my breakfast, then take the rest to work and pop it in the freezer for a little while, then thaw in time for lunch. Otherwise it was a great meal replacement for lunch at work – coupled with some more of fresh fruit and veggies, of course! When I replaced a meal with it, I did need to have something to actually munch on in addition to the shake.
WANT TO TRY IT?
Rachel Hamrick's focus is primarily helping woman to get fit and healthier. She is a busy mom of three boys, wife, chef, and more. Rachel is also a BeachBody independent Coach and you can find more information on her website and blog (ontheflyfitness.com). I enjoyed reading some of the articles and tips on her site!
Disclosure: I received a complimentary product in order to facilitate my honest review. Thank you to Rachel Hamrick, BeachBody independent Coach, and Brandy Ellen's Business Solutions for facilitating this review opportunity. All opinions are my own and yours may differ. Refer to my official Disclosure Policy.