Mmmm…chicken soup…with a Mexican flair! Sign me up. I saw this recipe in Cooking Light but modified it (of course…I can't follow a recipe to save my life). It turned out delicious and I will be making this again for sure. I never thought of using the meat off a rotisserie chicken (come on, I'm a CPA, not a chef!) but it turned out so yummy! Highly recommend this.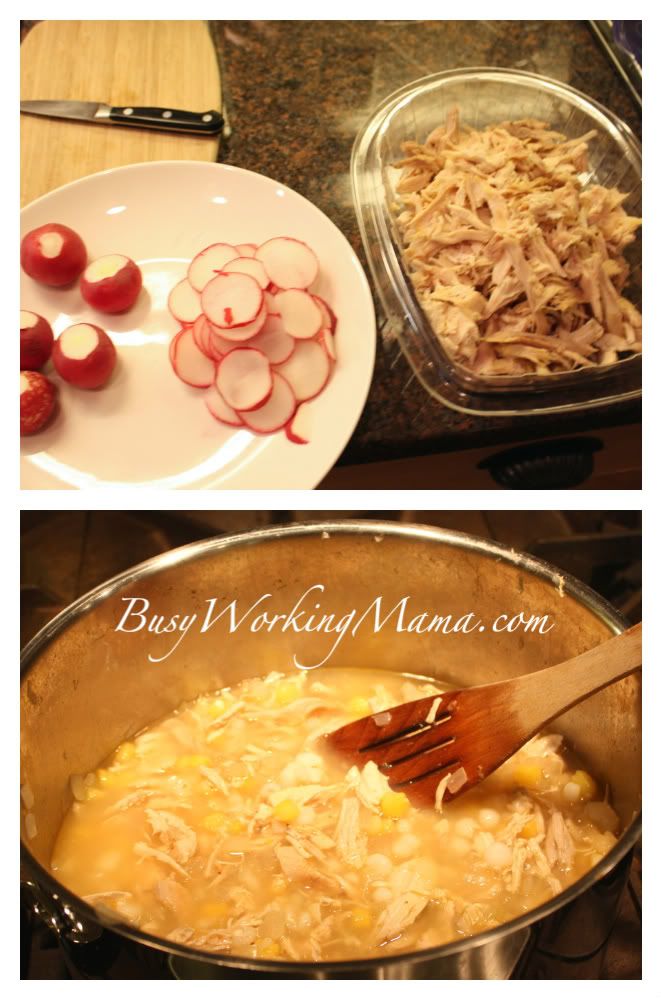 1 3/4 cups chopped onion (yes, this sounded like WAY too much but it worked!)
3 cloves garlic (I added 6, we're garlic-aholics!)
1 jalapeno pepper, seeded and minced
1/4 teaspoon cumin
dash of fresh ground pepper
2 cups shredded skinless, boneless rotisserie chicken. I used all the meat off a small chicken.
28 ounces fat-free, low sodium chicken broth (or a bunch of water with chicken bouillon)
2 cans hominy, rinsed and drained
2 limes
1/2 cup thinly sliced radishes
fresh cilantro leaves
Heat olive oil in a large saucepan over medium heat. Add onion, galric and jalapeno. Saute 5 minutes. Add chicken, pepper, cumin and broth, bring to a boil. Add hominy and squeeze in the juice of 2 limes. Cook about 5 minutes, serve in a bowl topped with cilantro and radishes. Enjoy! I think avocados might be nice in here. I'll try that next time I made this soup because there WILL be a next time! SO YUMMY!